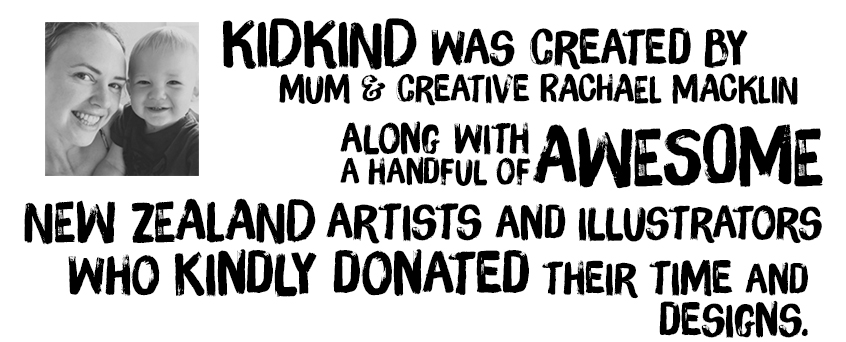 Beck Wheeler is a brilliant New Zealand illustrator, children's book author and pop surrealist artist. Beck's written a research paper on creating feelings of well being through art and colour in children's hospitals. And in a previous life, she was a kid's toy designer.

Keenan Fong is a young New Zealander of Maori/Chinese descent. He's a Graphic Designer at Forge Creative in Kingsland, Auckland. He steadily hones his skills in illustration, design and typography whilst building a life with his longtime partner Chloe Stockman.
"As one of four children, my parents gave us as much as they could to ensure we were happy and comfortable in life and also reminded us that we were more fortunate than others. Being even more aware of this as an adult, I look forward to opportunities to help those in need - especially kids because they are, well and truly, our future!"

Liora Saad is a New Zealand designer who owns the lifestyle range Toodles Noodles. All designs and products are created by Liora herself, and are made to channel New Zealand's natural, earthy feel while still observing current design trends. Originally from the Bay Area in California, moved to New Zealand in 2007. She is now proud to call this beautiful country home and to be a part of such an important cause, helping Kiwi kids in need.

Ko Tainui te waka, ko Ngati Raukawa te iwi, ko Pikitu te marae.
"I am a graphic designer, passionate about typography, illustration and branding. Reconnecting with my heritage has given me a strong desire to explore Māori design in particular. I am fascinated by the evolution Māori art has gone through to sit within the ever-changing creative world, and how we — as designers — must aim to retain tikanga (meaning) in everything we create.
I grew up as Missionary Kid in a third world country where I was exposed to poverty on a daily basis. My parents' heart to serve those in need was inevitably instilled in us kids, which is why this project resonates so strongly with me."

Leah Shao
is an up-and-coming graphic designer, illustrator and typographer based in Auckland. She believes, "N
obody chooses to be born into poverty, but everyone deserves to have a say in what they want to do with their life - all they need is the opportunity."

Kimberley Thomas is creative director and founder of Knucklebones Design Co. She specialises in hand-rendered typography and chalkboard installations. She's also a first time mum to 5-month-old Jake. Like many new parents, Kim says she's now much more concerned about the wellbeing of all kids, in particular looking out for those in our local NZ communities.

Otis Frizzell is one of New Zealand's best known graffiti artists. A man of many talents, Otis is an artistic innovator, style leader, artist, hip hop performer, radio personality, tattooist and graphic designer. He also runs 'The Lucky Taco' with his wife, Sarah. Otis got involved with this project, "Because these days, kids need all the help they can get!"

Guy Bellerby is a creative force who's been exhibiting his art since 1991. He's proudly never had a full time job. Instead, he's chased dreams – starting a successful clothing line, opening retail stores and working with Air New Zealand, Trelise Cooper, Converse and more. Guy is currently raising his daughter in Takapuna, Auckland.

Kate Hursthouse is a very talented New Zealand artist and designer specialising in illustration and typography. She has lovingly crafted this design from her 'Kiwiana' alphabet. In her spare time, Kate is also illustrating her first children's book.
SaveSave